好奇藝術 Kunstkammer 39 : Fancy Urban Farming :: quadruple root avocado, gem corn
Urban farming has been a back to earth, ecology movement around the world. I attended a conference in Toronto a few years back. There were super star speakers, and NY specialists. These are food oriented projects, I like them!
Then, there is a nostalgic type of gardening with esthetics involved. These would be scenarioed as retro, vintage wood farm house with white washed walls and comfortable hand knitted rugs, and rocking chairs. etc. These are esthetic gardeners, I like them!
Then, there are roof top HK gardeners, for food and maybe other plants.
I like them v v much! One time I saw a huge tree growing from a roof, in MongKok area I think. Wonder if its still there?
Now, for my mini experiments, becasue my studio is already packed with many ongoing files. But, I made room for one more! The urban farming/gardening/bonsai project.
My reasoning on what to plant - after doing research on the other peoples gardening experiences:
I see that, so much care goes into planting things, why plant vegetables? Why not try to grow something special? Professional farmers are much more able to produce things edible, bio and otherwise. If you had a small garden its easy enough to grow bio food. If you only have a balcony, what should you grow?
I prefer special plants, plants with something special.
So the choice this year - first trial is:
1// gem corn
2// tiny avocado - in hope to make them into bonsai if possible.
I ate some avocados of different sizes. And decided to germinate them all to see which one will grow.
Very surprisingly, the small tiny ones, 2" large with seeds 1" approx all germinated, whereas the larger ones are not quick to germinate.
One small seed was really kind of broken and black, I thought it would die but since I wanted to germinate 100 percent of all I ate, I included it.
This one, surprise, grew 4 roots! Maybe quadruple head avocado tree coming!
There were a few which were twin rooted, and they did grow double branch.
As for the gem corn so far, 8 germinated out of 100 seeds.
Wait and see how many makes it to the surface in the end.
full seed upside down (roots up to see clearly):
Gem corn seedling in pods, 100 pods; twin branch avocado; gem corn seedling w roots (shoot have not appeared above ground), and 4 root avocado planted. (seed size 1" )
seedling growing in beathable sacs; to be planted 4 in one square shape pod
http://homeguides.sfgate.com/train-avocado-tree-60392.html
H

ow to train an avocado tree
a simple idea for the traveling avocado grower - the

AvoSeedo

!
http://www.geekextreme.com/gadgets/avoseedo-grow-avocados-15490
Avacodo trees do prefer warmer weather but they are pretty good at adapting to European and North American climate. The avocados you see at the stores likely come from trees which are up to 80 feet tall!
The

AvoSeedo

is a small plastic bowl which features an indentation with a hole in it. One avocado seed can be inserted with the 'flat' end facing down.
Once that's done, AvoSeedo is to be placed in a sufficiently large, water-filled pot. Because of its low weight and high displacement, the AvoSeedo will remain at the surface at all times. And as the water level reduces, AvoSeedo will sink accordingly.
The AvoSeedo is an inexpensive $6 tool which will help you germinate and grow avocados anywhere. You carefully pop the pit out, clean it up, and place it in the AvoSeedo container. Place the entire contraption into a suitable container of water and watch your plant germinate.
Looks like its 3d printed!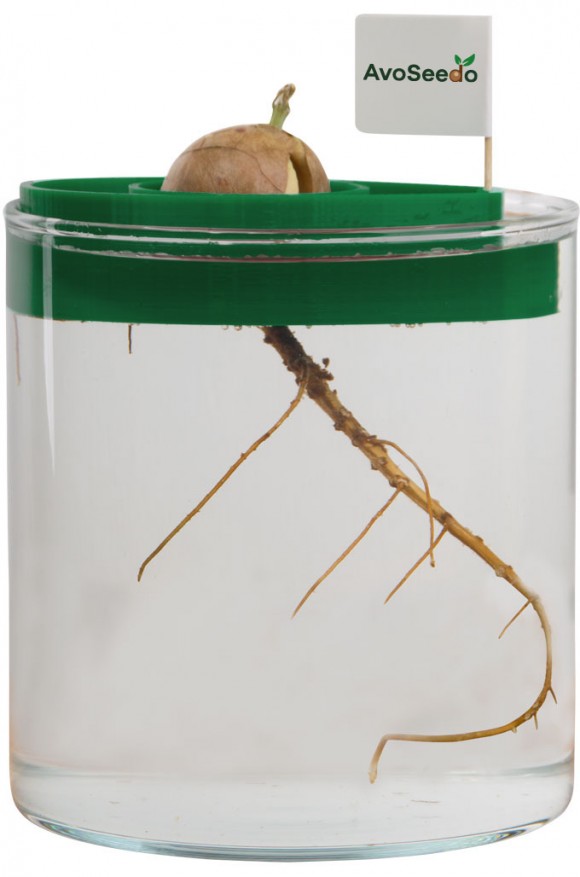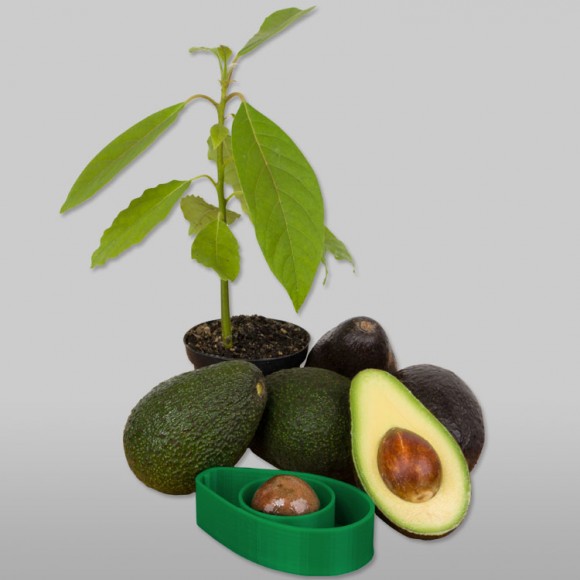 you live in Alaska