厦门到深圳全程一等座票价190元左右,二等座票价155元左右
(以最终公布的票价为准)。按此推算,杭州至深圳的动车二等座票价约为440元
http://book.huochepiao.com/
http://www.travelchinaguide.com/china-trains/high-speed/
xiamen to shenzhen high spd train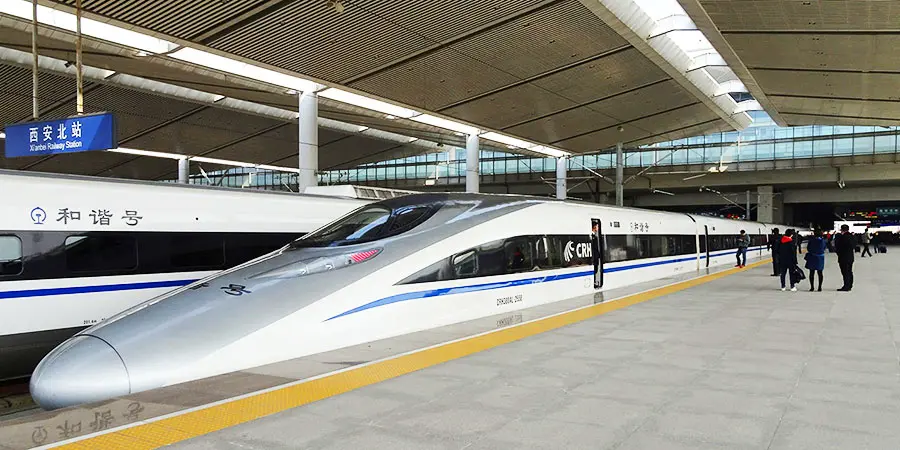 High-speed trains (G, D, C trains in China) run much faster than the normal ones. As well as traveling at speeds of upto 400km/h, the bullet trains are operated by advanced technological communication systems.

China is a vast country, covering almost 10 million square km (about 3.9 million square mi), with the distance of 5,500 km (about 3,417 mi) in north-south direction and 5,200 km (about 3,231 mi) in east-west direction. On the standard rail network, it can take a long time to reach your destination. For instance from Beijing to Guangzhou, a distance of over 2,000 km (about 1,243 mi), it takes nearly 24 hours, however, the journey time is cut to just 8 hours by bullet train. China has so many worthy destinations, many of which are far apart from one to another, and in most cases, tourists have no choice but to take an airplane. So to solve the problem, China has developed the high-speed rail network to cover more of the country, making long-distance trips more convenient, time-saving and feasible.

Now people generally prefer to travel by high-speed trains, which should be attributed to its advantages:
1. Fast: The present speed is higher than 200km/h, lessening the journey duration. For example, from
Beijing to Shanghai, a distance of over 1,200 km (about 746 mi), it takes around 15 hours by normal trains, but the bullet trains just need 5 hours.

2. Punctual: Less influence by weather, they usually arrive at their destinations on time. By contrast, a bus may be delayed because of traffic jams or bad road conditions. Flights may be cancelled because for the bad weather.

3. Comfortable and Convenient: Seating is very comfortable, and the facilities can better meet passengers' demands. Bullet trains are scheduled more frequently for many journeys so that passengers don't need to wait too long.

High-speed trains also overcome the disadvantages of buses which face severe safety problems especially for those overnight ones. On the other hand, considering the airports which are usually located far from the city center and the long procedure for taking a flight, travel by the bullet train can be more time-saving and convenient, especially for a journey within 5 hours.

Seats on High-Speed Trains
Seats are divided into second-class, first-class, business-class, super-class, and sightseeing seats.

Facilities
Facilities on these highballs bring much convenience for passengers. It is possible for passengers to use power points and Wi-Fi (Wireless Fidelity). In addition, dining, left-luggage and toilets will never be problems.
Development and Current Railway Network
Since the earliest high-speed rail line - Qinhuangdao-Shenyang Passenger Transport Special Line was constructed in 1999, China has developed a widely-used railway network. By the end of 2011, the railway network with the speed of higher than 200km/h covered 10,000 km (about 6,214 mi). By the end of 2012, China had achieved the "Four North-South and Four East-West Network". At the same time, the intercity high-speed railways also provide much convenience. The total length of such railway is expected to reach around 13,000 km (about 8,078 mi). According to the long-term extension plan, China will own 50,000 km (about 31,068 mi) high-speed railway by 2020.

Four North-South & Four East-West Network
Line

Open Date

Length (km)

Speed (km/h)

Four North-South High-speed Rail Lines

Beijing-Shanghai

(Jinghu) Passenger Transport Special Line

--

1318

--

2011/06/30

1318

300

Hefei-Bengbu (Hebeng) Line

2012/10/16

131

350

Beijing-Hong Kong (Jinggang)

Passenger Transport Special Line

(

Beijing-Guangzhou High-Speed Railway

in operation since 2012)

--

2360

--

Beijing-Shijiazhuang (Jingshi) Line

2012/12/26

281

350

Shijiazhuang-Wuhan (Shiwu) Line

2012/12/26

841

350

Wuhan-Guangzhou (Wuguang) Line

2009/12/26

1069

300

Guangzhou – Shenzhen: 2011/12/26;
Shenzhen – Kowloon: 2015

142

350;
Shenzhen – Kowloon: 200

Beijing-Harbin (Jingha) Passenger Transport Special Line

--

1700

--

Beijing-Shenyang (Jingshen) Line

2014

709

350

Harbin-Dalian (Hada) Line

2012/12/01

921

300

Panjin-Yingkou (Panying) Line

2013/09/12

89

350

Hangzhou-Fuzhou-Shenzhen (Hangfushen) Passenger Transport Special Line

--

1450

--

Hangzhou-Ningbo (Hangyong) Line

2013/07/01

150

350

Ningbo-Taizhou-Wenzhou (Yongtaiwen) Line

2009/09/28

268

200

Wenzhou-Fuzhou (Wenfu) Line

2009/06/30

298

200

Fuzhou-Xiamen (Fuxia) Line

2010/04/26

273

250

Xiamen-Shenzhen (Xiashen) Line

502

200

Four East-West High-speed Rail Lines

Xuzhou-Lanzhou (Xulan) Passenger Transport Special Line

--

1400

--

Zhengzhou-Xuzhou (Zhengxu) Line

2016

361

350

Zhengzhou-Xian (Zhengxi) Line

2010/02/06

505

300

Xian-Baoji (Xibao) Line

2013/12/28

138

250

Baoji-Lanzhou (Baolan) Line

2017

403

250

Shanghai-Kunming (Hukun) Passenger Transport Special Line

--

2264

--

Shanghai-Hangzhou (Huhang) Intercity Line

2010/10/26

159

300

Hangzhou-Changsha (Hangchang) Line

2014

927

350

Changsha-Kunming (Changkun) Line

2016

1175

350

Qingdao-Taiyuan (Qingtai) Passenger Transport Special Line

--

770

--

Qingdao-Jinan (Jiaoji) Line

2008/12/20

362

250

Shijiazhuang-Taiyuan (Shitai) Line

2009/04/01

225

250

Shijiazhuang-Jinan (Shiji) Line

2015/12

319

250

Shanghai-Wuhan-Chengdu (Huhanrong) Passenger Transport Special Line

--

2078

--

Shanghai-Nanjing (Huning) Line

2010/07/01

301

300

Hefei-Nanjing (Hening) Line

2008/04/18

166

250

Hefei-Wuhan (Hewu) Line

2009/04/01

359

250

Wuhan-Yichang (Hanyi) Line

2012/07/01

291

200

Yichang-Wanzhou (Yiwan) Line

2010/12/22

377

160

Chongqing-Lichuan (Yuli) Line

2013/12/28

264

200

Suining-Chongqing (Suiyu) Line

2012

131

200

Dazhou-Chengdu (Dacheng) Line

2009/07/07

374

160

Intercity High-Speed Trains
| | | | |
| --- | --- | --- | --- |
| Line | Open Date | Length (km) | Designed Speed (km/h) |
| Qinhuangdao-Shenyang (Qinshen) | 2003/10/12 | 404 | 200 |
| Beijing-Tianjin (Jingjin) | 2008/08/01 | 119 | 350 |
| Chengdu-Dujiangyan (Chengguan) | 2010/05/10 | 68 | 200 |
| Nanchang-Jiujiang (Changjiu) | 2010/09/20 | 135 | 250 |
| Changchun-Jilin (Changji) | 2011/01/11 | 108 | 250 |
| Hainan Eastern Ring Railway | 2010/12/30 | 308 | 250 |
| | 2012/12/31 | 117 | 200 |
| Guangzhou-Shenzhen (Guangshen) | 2011/12/26 | 116 | 350 |
| Shanghai-Nanjing (Huning) | 2010/07/01 | 301 | 350 |
| Nanjing-Hangzhou (Ninghang) | 2013/07/01 | 249 | 350 |
| Tianjin-Qinhuangdao (Jinqin) | 2013/12/01 | 261 | 300 |